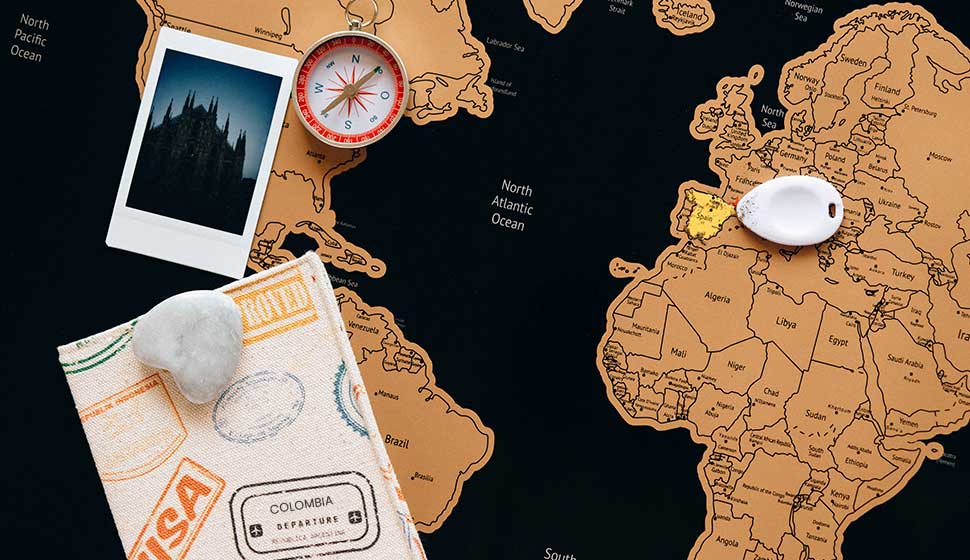 A Comprehensive Guide to Obtaining a Student Visa in Colombia
Introduction:
It's relatively easy to get a student visa in Colombia. In fact, it's much easier than a work visa. And, unlike a tourist visa, you can stay longer than six months in Colombia if you enroll in a course that's longer than six months. So, if you'd like to get to know the beautiful country of Colombia and would like to take advantage of an opportunity to learn Spanish at the same time, getting a student visa is a perfect (and easy) option for you. Read on to discover everything you need to know about Colombian student visas, the requirements, the application, and valuable tips.
Note: To apply for a student visa in Colombia, you must first enroll in an educational institution recognized by the Colombian government. The program needs to include at least ten hours of education per week.
You can apply for a student visa when you have chosen your course and enrolled in it. But wait! Colombia offers two types of student visas. Let's take a closer look.
Types of Student Visas in Colombia
Colombia used to have only one student visa, called the TP-3 visa. Since the end of 2017, however, there have been two types of student visas in Colombia: Migrant (M-9) visa and Visitor (V) visa. The duration of both visas depends on your chosen program's length. It could even be longer than one year and up to two years. Neither visa permits you to work in Colombia. So which one works for you?
Migrant (M-9) Student Visa
for primary, secondary, middle, and undergraduate students
You should apply for the M-9 visa if you have enrolled in a university degree program (a bachelor's degree, for example). Remember that your visa will no longer be valid if you leave the country for more than six months.
Visitor (V) Student Visa
for student exchange, arts and crafts, or postgraduate studies
The V-type student visa is for non-degree courses, such as a Spanish language course. Remember, a Visitor visa means you cannot apply for a different visa from within the country. So you would have to apply at a consulate in another country.
!!! Note that at this moment, some V student visas are for six months or less. Enrolling in a Spanish language program at El Dorado or EAFIT University in Medellin (or other qualified universities) may enable you to get a one-year student visa.
Cost of Student Visas:
| | | |
| --- | --- | --- |
|   | Colombia and the rest of the world | Europe and Cuba |
| First payment | US$16 | €12 |
| Second payment if the visa is granted | US$51 | €40 |
To obtain a Colombian student visa, you must prove that you can support yourself for the duration of your stay. 
Financial Requirements
To obtain a Colombian student visa, you must prove that you can support yourself for the duration of your stay. 
These can include your bank statements for the past six months or a legalized document showing the average account balance for the past six months. That average must be higher than ten times Colombia's minimum wage. In 2021, Colombia's legal minimum wage was COP$908,526 (around US$240 or 200€) per month. So, your average balance needs to be at least US$2,400 (or 2,000€) per month for the last six months.
Alternatively, you could prove that you have enough available credit card balance.
 Required Documents
| | | |
| --- | --- | --- |
| Digital Photo | Previous Visa Photocopy | Proof of Financial Sponsorship or Economic Solvency |
| Passport Photocopy | Certificate of Admission | Legalization of Financial Sponsorship Documents |
| Proof of Legal Entry | Certificate of Existence and Legal Representation | Health Insurance Certificate |
A recent color photograph on a plain white background (4 cm height by 3 cm width), looking head-on into the camera, without accessories (i.e., no hair bands, earrings, or anything else that covers the face), eyes open, ears visible, clear shot, JPG format (maximum 300 kB). Do NOT use the previous visa's photo.
A photocopy of the first page of your valid passport, either in color or black and white. Remember your passport needs to be valid for your entire stay in Colombia.
A photocopy of the last entry stamp y into or departure from Colombia or a document showing that your immigration status is confirmed.
This is unnecessary for the first time you apply for a Colombia visa. However, if you have been issued a Colombian visa in the past, you must provide a photocopy.
Certificate of admission or enrollment in an educational institution recognized by the Ministry of Education and authorized to do an academic exchange, studies in art or trades, or postgraduate studies with a minimum of ten hours class-time per week. The school issues this document after receiving payment for the course.
Certificate of existence and legal representation
A photocopy of the resolution of existence and legal representation issued by the university or educational institution you are enrolled in.
Proof of financial sponsorship or economic solvency
For underage students, parental authorization (legal guardian) and designation of the person assuming the economic responsibility for the student has to be authenticated by a Colombian notary or consul.
For adults, proof of personal financial solvency.
Legalization of financial sponsorship document
The financial sponsorship document needs to be translated and notarized unless it was issued in Colombia.
Health insurance certificate
An international health insurance policy certificate must be valid for at least six months to a year (not less than the length of the validity of your visa). At least US$35,000 (approximately €30,000) coverage for a V-type student visa and at least US$60,000 (approximately €50,000) for an M-type student visa is required. Cigna Global Insurance, Aetna International are popular choices, and you can get a free quote on their websites. What your policy will cost will vary depending on age.
Note: After you have obtained a visa and cedula, you will qualify for Colombia's EPS health insurance. It is mandatory government-sponsored health insurance for all residents in Colombia. This insurance should be enough to renew your student visa.
It can take anywhere from one to several weeks to process an insurance application and get an EPS policy approved. Due to the COVID-19 pandemic, it may take even longer. We advise you to plan well in advance.
Required Documents 
A valid passport or travel document in good condition with room for a visa stamp.
Fill out the electronic visa application form.
All required documents other than identity or travel documents must have a date of issue no more than three months before the application's registration.
All documents from abroad must have an apostille or legalization and an official translation into Spanish when not in this language. The official translation must either be legalized or have an apostille.
If the visa officer can establish their content, required bank statements may be presented without an apostille or legalization and a Spanish translation.
Background checks and criminal records from the foreigner's country of origin can be presented to the Colombian consulate in that country.
The visa application process is relatively straightforward, and you can do it entirely online. Just fill out the form and upload scanned copies of all the required documents in a PDF format and your digital photo in JPEG format. 
The order in which you upload the required documents to the website is crucial. The system won't allow you to upload documents out of order, but it won't tell you the problem. Also, you can only upload one file per number, so if you have multiple documents for one entry, you'll need to merge them into one document.
A copy of your passport's main page or travel document where the holder's data with visa sheets are recorded
A copy of the last entry stamp, exit stamp, or safe-conduct, whichever applies, or a copy of the document that proves your status in the country of residence other than your own.
A copy of the last Colombian visa. If the OCR granted this requirement, it's not necessary.
Power of attorney duly granted if an attorney-in-fact will complete the procedure.
The admission or enrollment certificate from the educational institution with the course information, duration, and at least 10 hours class time scheduled per week.
If an application is presented individually or with a naturalized person's sponsorship, you will need:

A letter signed by the applicant or the person supporting the application, including full identification of the applicant or the sponsor (as they appear in the passport or citizenship card)
Explanation of the relationship with the foreigner, the reason for the trip, and declaration of economic responsibility for the expenses of stay and personal or foreign travel
The applicant's bank statements or those of the person sponsoring the applicant for the six months before the visa application
If one or more legal entities sponsor the submitted application, you will need:
A letter signed by the legal representative of the institution or company, including – The name of the institution or company, NIT (if legally constituted in Colombia), and contact information. – The foreigner's complete identification as it appears in the passport – Activity, duration, and schedule the foreigner has planned – Relationship with the foreigner and qualifications or expertise – Statement of economic responsibility for the expenses of the foreigner's stay and travel.
When the institution or company supporting the application is private and was incorporated abroad, it must provide a certificate of existence and legal representation or the document that takes its place, with an apostille or legalized as appropriate. If it is in a language other than Spanish, it must be translated and legalized.
Proof of economic solvency by presenting bank statements of the institution or company corresponding to the six months before the application. Public entities are not required to comply with this requirement.
2.Upload Documents
Another detail to be aware of is that you can only upload five megabytes and 35 pages total (not per file). If all of the files you have to upload are more than 5mg or 35 pages, you need to adjust.
Once you have paid for your course and the Colombian visa application, the visa office will respond within five business days. In case additional documentation or an interview is required, the term may extend up to 30 calendar days from the online visa application registration date.
To submit your visa application follow these steps:
Online Registration
In Process
Formalized
In Study
Authorized
Paid
Processed
Printed
If you are applying outside of Colombia, you must visit a Colombian consulate to have your visa added to your passport once your application has been approved. Then you simply enter Colombia, show them the document confirming your status, and they stamp your student visa at the airport. You can then travel to Colombia and begin your educational and cultural adventure.
If you are applying in Colombia, you can visit the Ministerio de Relaciones Exteriores office in Bogotá to add your visa to your passport. It is on Avenida 19 #98-03, Torre 100 Building, on the 3rd floor. Office hours are from 7:30 a.m. to 12:00 p.m. And now you can do it online. Once the visa is approved, you print it and take it to Migración Colombia (if your visa is more than three months). They review it, stamp your passport, and take a picture for your cédula. So be prepared to have your photo taken.
Note: The Colombian Ministry of Foreign Relation's visa office is very strict and pays close attention to all visa application details. If you miss a requirement, don't pressure the officials. Remember that they have a right to deny you, meaning you won't be able to reapply for at least six months.
You can log in and check your visa application status online to see if anything is missing. Then you can prepare and upload the needed documents, apply for a different type of visa, or ask a visa agency for help.
Again, remember to upload the documents in the right order. So if they need more bank statements (#6), you first need to remove all files from the application, then add them back in the correct order. Unfortunately, this will send your application back to the beginning of your online registration process.
Possible Decisions
Approved: That means you have met all the requirements; you can proceed to make the payment, and the visa will be sent to you via email.
Required: That means that some documentation is lacking in your application or additional information is needed, and you are requested to file whatever is still missing.
Inadmissible: This means your visa application did not include all the documents required by law, and you are allowed to apply again.
Rejected: This means that your visa application has been denied, and you are not allowed to apply again for six months.
Obtaining a Cédula
If your visa is valid for more than three months, you must register it with Migración Colombia within 15 days from the issue date (or 15 days from the arrival date if you got your visa at a consulate) to get a Foreign ID Card (Cédula de Extranjería).
Your visa and cédula applications registration must be done in person (you will be photographed and fingerprinted) at one of the Migración Colombia offices. The offices are located in all major cities in Colombia, including:
Barranquilla – Carrera 42 #54-77, Barrio El Recreo
Bogotá – Calle 100 #11B-27
Cali – Avenida 3 Norte #50N-20
Cartagena – Carrera 20 B #29-18, Barrio pie de la Popa
Medellín – Calle 19 #80A-40, Barrio Belén
You will need to provide your original passport and visa, a photocopy of your passport's first page (biographical information), and your blood test. If you forget a photocopy of your passport, there are small photocopy shops close to the immigration office where you can easily get one. The cédula costs COP$190,000.00 (approximately US$500 or €420).
Note: If you fail to register your visa for your cédula within 15 days, you face a hefty fine.
Obtaining a Dual Citizenship
Dual citizenship is only possible with the Migrant (M) visa, not the Visitor (V) visa. If you have had the M-type student visa for five years, you can apply for a Resident (R) visa. And when you've had the R visa for five years, you will be able to apply for Colombian citizenship.
Colombia allows dual citizenship, so you don't have to worry about choosing between your original and Colombian citizenship.
COVID-19 Updates
Due to the COVID-19 pandemic, Migración Colombia offices had been closed for months. However, Colombian immigration offices reopened and resumed their services on September 21, 2020, allowing foreigners to obtain visa extensions and cédulas. All applications are by appointment only, and delays are likely. No walk-ins are permitted.
If you're unable to schedule an appointment online to register your approved visa, try scheduling a different type of appointment (e.g., salvoconducto). At least you'll have a confirmed appointment; just remember to print the confirmation and take it with you.
Individuals can apply for the following:
Foreign national ID card
Visa registration for adults and children
Certificate of migratory movements
Salvoconducto (temporary permit)
Special Permit for the Promotion of Formalization to stay (PEP-FF)
Temporary stay permit (PTP) for extensions of stay in Colombia
Applying for a student visa from outside of Colombia should not be a problem.
International travelers do not need to present a negative PCR test to enter the country. However, proof of vaccination and Check-Mig registration 24 hours before their flight is required. If traveling within the country, remember that some areas have travel restrictions depending on the contagion level and hospital load. However, most everyday activities have resumed. Please be sure to take proper precautions with your health.
Wrap-Up
Despite the COVID-19 pandemic global impact, traveling to Colombia and obtaining a student visa is possible again! The application process is relatively easy. Additionally, many schools offering Spanish courses also assist in obtaining a student visa.
El Dorado Spanish School in Medellin is one of those schools. It is a certified institution registered with the Ministry of Education in Colombia. That means if you enroll in a Spanish course at El Dorado, you will be able to obtain a student visa and your C2 Proficiency certificate in Spanish.
The courses are divided into General and Professional programs. Individual and small groups lessons are available. They offer various course types and durations tailored to your goals and objectives.
Professionally trained native teachers conduct all classes (including beginner level) solely in Spanish to provide a natural and conversational learning experience.
Colombian culture plays a significant role in the learning experience, too, and it will help you understand the language better and add value to your skills. Mixed programs, cultural events, and weekly activities provide opportunities to practice what you learn in the class.
Find out more about the school and the Spanish courses it offers here.
Do not miss this opportunity! Find out more about how to get your Colombia student visa with El Dorado. Send an email, and the school will get in touch with you and provide all the information you need.
Learning Spanish while enjoying your stay in Colombia is the perfect way to kill two birds with one stone. It will widen your horizons, add to your life experience, and open up a large door to future social and professional opportunities.
Conclusion
Obtaining a student visa in Colombia is a relatively straightforward process, provided you meet the requirements and follow the necessary steps. By understanding the different types of student visas, preparing the required documents, and completing the application process diligently, you can embark on your educational journey in Colombia with ease. Remember to plan ahead, seek assistance when needed, and stay informed about any updates or changes to the visa regulations. Enjoy your time studying in Colombia and immersing yourself in its rich culture and vibrant landscapes.